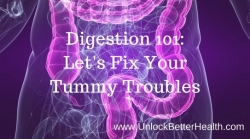 Digestion 101

There's so much that can go wrong with our digestion these days. Millions of prescriptions are written for proton pump inhibitors, acid blockers, antibiotics and more. Plus, more than 500,000 gallbladders are removed every year (mostly unnecessarily!). There are a few simple measures you can take to improve your digestion. Let's work through them.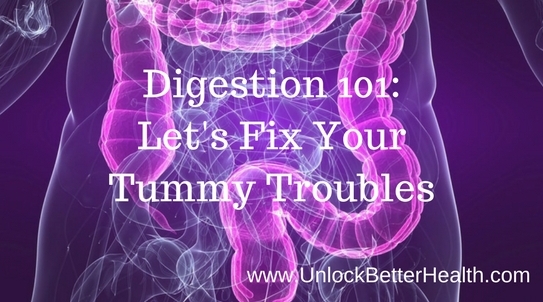 How Digestion Works

Digestion begins in the brain when we smell food. This triggers salivary enzymes. Then, we slowly (hopefully) chew our food, and the stomach breaks it down with ample amounts of hydrochloric acid (HCl). Proper amounts of HCl break down the food, kill pathogens, parasites, bacteria and breaks down proteins. Then, the food moves into the small intestine where fats are broken down and absorbed, the pancreas sends out enzymes and bicarbonate, then it moves into the large intestine where bile and saliva are reabsorbed, feces are formed and peristalsis moves the bowels. This is how it's supposed to happen.

What Can Go Wrong?

If you are not in a state of relaxation when eating (or parasympathetic mode), you simply can not digest food properly. We need to be in Rest & Digest mode first. This means, no more eating on the run, in the car, while working, watching the news, or doing ANYTHING that stimulates the nervous system. Take a deep breath or take a moment to be grateful for your meal. Put down your fork in between bites and chew your food a minimum of 20-30 times until you swallow. If you don't have enough stomach acid (and it declines as we age), your food will sit in your stomach and ferment or off gas.
This creates pressure on the lower esophageal valve and causes the small amounts of acid that is in the stomach to be expelled into the esophagus creating heartburn or reflux. The conventional notion is to take antacids, which can provide temporary relief, but it doesn't fix the problem of low stomach acid and prevents your food from being broken down for digestion. Some acid blockers and PPI's work for up to 24 hours - suppressing acid for each and every meal! You can take HCl acid supplements slowly to build up the acid in your stomach. (See a Health Practitioner for help with this) But do realize that taking acid blockers and antacids are for short-term relief and were never meant for long-term use. Without proper pH levels in the stomach, pathogenic organisms can thrive and wreak havoc on the GI tract!
The next concern is that when undigested food enters the small intestine, it can impact the microvilli. The lining becomes "leaky" and allows proteins and fat to pass through the gut in larger sizes, which overwhelms the immune system. The body views these as invaders and develops antigens to them - triggering autoimmunity and food allergies! Another concern is a low-fat diet. This creates atrophy in the gallbladder. (Remember the fat-free mantra of the 80's and 90's?) It's time to add some healthy fat back into our diets. Maldigested foods, fats, and parasites can be jammed into the large intestine now and disrupt the gut flora - our microbiome of 700 million pets! This can weaken the cells of the colon, cause diverticulitis, IBS, Crohn's, IBD, Celiac, and/or colitis - all exacerbated by gut dysfunction.

What Can You Do?

There are so many avenues of dysfunction in the gut, but there are many simple things you can do to repair it. Chewing slowly, being present for your meals, and making sure you have enough HCl acid in your stomach is a good start. Drinking beet juice can thin bile fluid if you've been eating low-fat or have trouble breaking down fats in your diet (you would notice fatty stools and/or have an autoimmune
disease). Simple supplements like digestive enzymes, HCl, and certain foods can help repair a dysfunctional gut.
If you're suffering from gut issues, set up a

Nutrition Therapy

Consultation - a 90-minute consultation with a 30-minute follow up or the Leaky Gut Program - to discuss methods of repairing your digestive tract.
Save