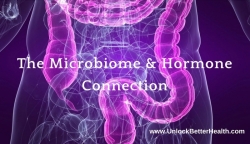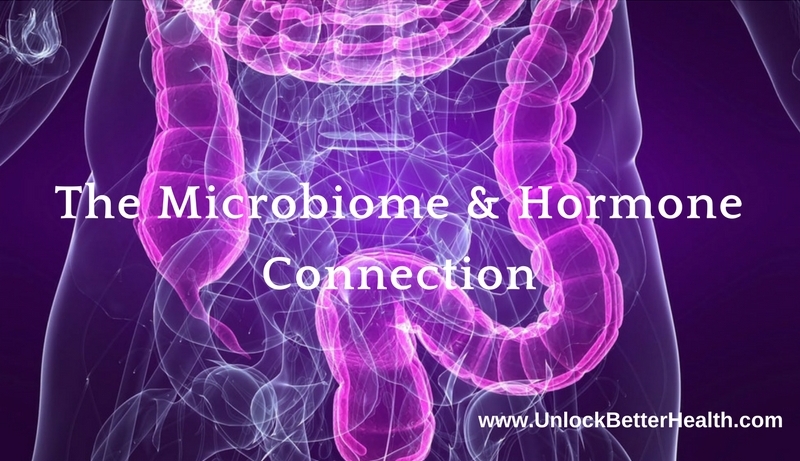 Did you know that 1 dose of an antibiotic reduces your gut bacteria by 90%?
If you suffer from PMS, belly bloat, period problems, breast lumps, acne, digestive issues and low libido, you could have a hormonal imbalance which probably is stemming from an unhealthy microbiome.

So much amazing research has come forth recently in regards to our microbiome and our health. The latest research shows that the microbiome is now considered to be an endocrine system and produces and secretes all of the hormones we utilize in the body! Say what?!!

It also regulates the expression of the hormones - meaning our gut bacteria is our "master control" for everything hormonal. We need to address the gut first when looking to balance our hormones. For example, Serotonin is produced in the gut (90% is made in the digestive tract). This is our "happy hormone" and it has the ability to help us relax, sleep, alter our mood, and support gut motility. Serotonin communicates with the gut and the brain. Depression is actually preceded by gut issues!
Our gut also produces Dopamine (the reward centers of our brain). If Dopamine is low, addiction issues can result (sugar, drugs, alcohol).
Our gut bacteria also produce norepinephrine - the stress hormone. An imbalance in the gut can lead to an overgrowth of the wrong kind of pathogenic bacteria.
The microbiome also produces all 3 forms of estrogen. The most important of those being Estriol - the protective estrogen. In a healthy gut, more Estriol is produced and this helps in reducing perimenopausal symptoms like hot flashes, vaginal dryness, bone loss and weight gain. More Estriol is good and creates Estrobolome which breaks down estrogen so you don't end up with an imbalance. An overabundance of estrogen contributes to breast cancer and lumps.
So, you can see that having a healthy, thriving microbiome or gut is absolutely essential. But, how do you achieve that?

Here are some tips:
1. Take antibiotics only when you have a bacterial infection and absolutely necessary. Discuss the risk/benefits with your doctor. Consider olive leaf extract or oregano oil as your first line of defense against germs.
2. Limit exposure to prescription medication and over-the-counter meds that may disrupt the microbiome.
3. Manage your stress with deep breathing, meditation, or yoga.
4. Watch your exposure to toxins via processed foods, drinking water, plastics, cleaning supplies, personal care products, and vaccines.(I write about this in Chapter 12 of my book, Unprocessed Living.)
5. Get daily exercise to help your body release excess estrogen. Sweat it out!
6. Add lots of fiber-rich foods in your diet. Chia, flax, leafy veggies, and broccoli.
7. Drink lots of water to flush out excess waste that can be toxic to your microbiome.
8.Limit your intake of dairy, gluten, and sugar. These can exacerbate bacterial imbalances.
9. Birth control pills can also encourage the bad guys to multiply and decrease the good bacteria. Consider more natural options.
10. Take a well-studied, high quality Probiotic and eat fermented foods. I like Thrive Probiotics as a supplement and fresh kraut, kombucha, kimchi and fermented pickles to increase my good bugs!