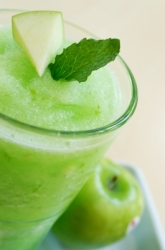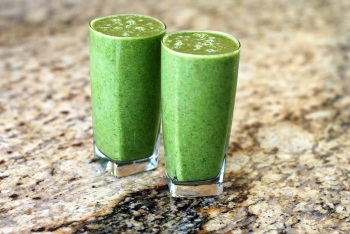 With summer approaching, I thought it would be a good time to share some tips and tricks on making a nutritious smoothie. Smoothies can be refreshing in hot weather, but more importantly, they nourish your body on a cellular level and can improve your health, your digestion and your immunity. Made properly, a smoothie can cleanse your body of toxins, assist with weight loss, hydrate you, and provide a simple, quick meal when you're in a hurry.
Smoothies can serve a few different purposes as well. There's the breakfast smoothie, the post-workout fuel-up, and the afternoon pick-me-up (or after school snack if you have children). My girls also love popsicles made from smoothies, which sure beats those questionable novelties on the ice-cream truck!
You could use a recipe that tells you exactly how to make a particular smoothie, but I like using this simple Green Smoothie Formula which allows you to get creative in the kitchen.
Easy Green Smoothie Formula:
Start with 2 cups of leafy greens (like baby spinach, Swiss chard, kale, even Romaine lettuce) I like to rotate my greens for maximum nutrient intake.

Add about 1 ½ cups of liquid (water, coconut milk, almond milk, or coconut water)

1 banana (freeze your overripe ones) or 1 pitted Medjool date

1 cup of Fresh or Frozen Fruit (pick your favorite, use what is in season or use frozen fruit)

Superfood Boosts: Sprinkle in chia seeds, goji berries, Maca powder, flax seeds, cinnamon, raw cacao, or hemp seeds.
Serves 1-2 – depending on how hungry you are!
Blending Tips:
If you don't have a powerful blender, whiz your greens and liquids first, then, add your fruits and superfoods.

If using fresh fruit (as opposed to frozen), add a few cubes of ice to chill your smoothie and make it creamy and cool. I like to freeze seasonal fruit to have on hand all year round to make smoothies. Frozen bananas make it super creamy.

You can make these the night before, but store in glass jars with a tight lid. They may need a brief run through the blender right before consuming or a good shake.
The Meal-Replacement Smoothie:
To use a smoothie as a meal replacement, say for breakfast, it's important to add protein and healthy fats. I like using a tablespoon of a nut butter like cashew or almond butter or you could even add pumpkin or sunflower seeds (if you have a high-powered blender). To add in a healthy fat, you could use a tablespoon of coconut oil or coconut manna or ½ an avocado.
The Post-Workout Smoothie:
Adding in healthy fats like coconut oil, avocado and nut butters can provide your body with the fuel it needs to continue on its fat-burning mission. Protein is essential too and nut butters and seeds are great in a smoothie after a good workout. Low-glycemic berries are best after workouts as well.


Make it Kid-Friendly:
Leafy greens and light-colored fruit like mangoes and pineapple create a bright neon green smoothie. I make these in my Wellness After School class for elementary-aged children and call it my Green Goblin Smoothie. They all love it once they try it, but some are wary of the green color at first.
Using blueberries and strawberries can turn your smoothie purple or pink, which can be more accepting of choosy children.


A Bit About Superfoods:
A "superfood" is basically just a nutrient-dense food that is really great for your health. We've all heard of blueberries, wild salmon and broccoli being traditional superfoods, but there's a few more that are becoming more commonplace that you should consider adding to your diet. Superfoods are high in antioxidants, minerals, vitamins and amino acids – which we all need.
Maca Root is very nutritious and it's great in smoothies because the smoothie helps mask Maca's earthy taste. Maca is full of fiber and amino acids, is great for weight loss and it helps deter sugar cravings. It's also used to boost energy and a sluggish libido. Ancient Peruvians used Maca as a fertility enhancer.
Raw Cacao is another favorite of mine. Cacao is chocolate is its raw, unprocessed form. It contains theobromine which encourages a healthy balance of bacteria in the mouth, speeds up metabolism and boosts energy. It's also high in antioxidants, fiber and magnesium, and boosts serotonin levels.


What do you put in your green smoothie? Share with us in the comments!