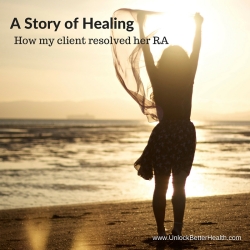 Talisha came to me last December with a recent diagnosis of Rheumatoid Arthritis – an autoimmune disease of the joints that can be crippling and very painful.
She signed up for a 3-month Health Coaching program and we began working on some dietary protocols right away. There's been a lot of research surrounding the AIP or Autoimmune Protocol Diet in helping to resolve those with autoimmune diseases like RA, MS, Hashimoto's and more. So, we decided together that this would be the way to go. She wanted a more holistic approach, than the side-effect inducing prescriptions she was taking.
Three months later, Talisha's symptoms are mostly gone and she is resolved of the disease. I say resolved, because she is not "healed" or "cured," because if she were to return to eating the foods that are inflammatory to her body, the pain could return.
Here's Talisha's story in her words:
My initial symptoms began the first week of July 2015. The first moment I knew something was wrong was when I grabbed a bowl to feed my dog and I dropped it--couldn't grab or hold onto it correctly. I immediately had pain in my right hand, specifically my first and second finger and my thumb--my knuckles were slightly swollen. Over the next few days my right hand became worse--more swollen and stiff, especially in the morning hours. My initial thought was that I must have been bitten by a spider or something is wrong neurologically with me, but in the back of my mind I thought RA--since it ran in my family. On day 10, I went to the doctors and explained my symptoms and gave my family history. I have a Great, Great Aunt (age unknown), Aunt with RA (late 30s) and my brother (age 44) who was just diagnosed with RA 6 months ago. My doctor said, " it is a coincidence that your brother was diagnosed with RA 6 months ago, don't worry about it, I think you have a virus. Come back in 4 weeks if symptoms worsen." She took several panels of blood work--all of which came back normal.
One week later and all the joints in my right hand swelled and I could not open and close my fingers in the morning. Another week passed and all the symptoms moved to my left hand. After two weeks from leaving the doctor office, it took me two hours to open my hands in the morning. I went back to see her. She said, "I still think you have a virus. I requested (nearly begged) to see an RA specialist for a second opinion. After anxiously waiting for the appointment for the RA specialist, I finally saw her and she said, "I think you have a virus." I went home and searched for hours for the BEST Rheumatologist in the area. I found a specialist (Best RA Doctor in Northern VA) 15 minutes from my house and booked an appointment 3 days later. I had to pay $300 out of pocket--he is not in network. He said, "I can't diagnose you because you need to have symptoms for 6 weeks, come back in two more weeks." When I asked for his impression of my symptoms he said, "I think you are a 39-year-old female with Rheumatoid Arthritis." Two weeks later, I returned to him and was given the official diagnosis. I sent a note to the original RA specialist (within in my insurance company) who saw me and asked for a second opinion in her department. I got an appointment that week and within 10 minutes of meeting this doctor she also gave me the RA diagnosis.
Over the next 4 weeks, the disease spread to my wrists, toes, feet, ankles, knees, elbows, eyes--I could barely walk in the morning. It aggressively spread everywhere. The stiffness in the morning was 3 hours long--I couldn't do ANYTHING for 3 hours every morning. I barely slept. My husband had to open doorknobs for me (I couldn't turn them), use the scissors for me, cut my food, walk the dog (couldn't grasp onto the dogs leash--couldn't even put on his collar), unbuckle/buckle my jeans, open/close ziplock baggies, open/close jars--literally he became my shadow. My employees had to help me write my notes, use the eraser for me, carry my things everywhere I needed to go, and work with my clients. My running days were also gone.
The doctor put me on medication and I initially became better, but then worse. I decided after a few months of pain, nausea and hair loss, that I wanted to take a more holistic approach. The doctors gave me a few months to try this. I stopped taking the medications in December.

Pain levels: 0-10
July pain levels were: 5-7; August-September with medication (Plaquenil & Prednisone) were: 3-5; October-first two weeks of December-taking Methotrexate (a chemotherapy drug) were: 7-10.
Began AIP diet late December-April (current) are: 0-2, with a few days having a 3 (rainy days).
Side effects to medication (4 months of meds): significant hair loss (it falls out in clumps), vomiting, nausea, brain fog, dizzy, and depression.
After three months of AIP diet: I am living a normal life again. I don't need ANY assistance with daily activities. I am running again with my dog. While I still have some levels of pain and swelling, I can identify quickly which foods trigger the disease. My inflammatory markers from my blood test are normal now, even better than when I first went to the doctor!
My thoughts…
Talisha's story is not a fluke. Thousands of people are resolving themselves of debilitating diseases with dietary protocols that remove specific inflammatory foods. In her instance, we removed gluten, dairy, soy, nightshades (tomatoes, potatoes, hot peppers, among others), alcohol, sugar, eggs and some nuts and seeds. Her diet consisted of nutrient-dense, local grass-fed meats, leafy greens, vegetables and limited fruits. Eventually, she did add back in some of those foods, but not most. I really have to credit her for doing all of the work and being super vigilant with her diet. This is not an easy task or lifestyle to adhere to. Our lives are so focused on food, socializing and there's an abundance of overly-processed foods. But, when you want something bad enough, you will do what it takes to heal and Talisha did just that. When you remove the inflammation, you allow the body to heal and that's just what hers did.