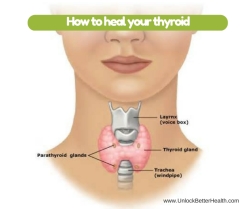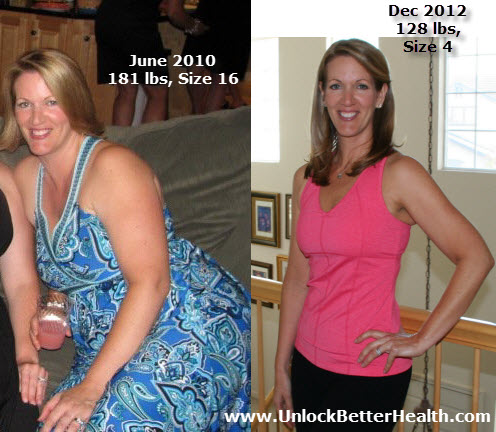 So, that's me in the photo on the left back in 2010. Not only was I overweight, but I was tired, filled with brain fog, and felt like I was moving through molasses when I walked. I had high cholesterol, migraines and tummy troubles. I was a hot mess at 40! Now, at 46, I feel like I'm in the best shape of my life, I don't take medicine, I'm free of those pesky health issues and my crazy thyroid is in check.

I was able to heal my body and stop the internal attacks on my glands and organs. You see, I was eating processed foods with chemical preservatives and fruits and veggies sprayed with pesticides, fungicides and herbicides. I was eating meat from the grocery store that was from animals raised in feed lots. I ate fast food occasionally, drank too much alcohol and wasn't exercising my body enough. My body started to attack itself because of the onslaught of foreign matter and frequent antibiotics that were destroying my gut flora.

I was frequently ill with sinus infections, bronchitis and colds because I wasn't nourishing my body with healing foods.

So, what did I do? I got in the kitchen and started cooking real food. No more packaged meals and frozen boxes of chemical concoctions. I tried my best to eliminate all processed foods and those with GMO's.

I then started to eliminate foods that I thought could be causing my tummy troubles and sinus issues. I started with dairy. The post-nasal drip and seasonal allergies went away within a couple of weeks, as well as the frequent colds. Then, I introduced seasonal, local foods that were grown near me. I visited farms and farmer's markets and asked about their growing practices. I also sourced local grass-fed meat and pastured chicken, pork and eggs. After a year, I eliminated gluten. I found it was a huge irritant for my body. The tummy troubles subsided, along with the eczema.

This change made a huge improvement in my health. My energy levels soared all day long. I didn't have the sugar crashes and lulls throughout the day. Yes, I also stopped eating anything with refined or artificial sugar.

I made it point to find a local doctor who would test my thyroid completely and provide me with a clear plan to get off the medication.
I also worked on healing my gut. Those years of antibiotic abuse had destroyed the healthy gut bacteria that we all need for a thriving immune system. I drank bone broth, took herbs and practiced stress-reducing activities that allowed my gut to heal. I also added fermented foods like fresh kraut, kombucha, kefir and fermented veggies to my diet.

Refreshing exercise also played a huge role in balancing my hormones and dropping the excess weight. First, I just walked 2 miles every day and on inclement weather days, I would ride a stationary bike. Then, I added weight training and a barre workout for balance and strength. I love working out with weights. I'm not a "lifter" or cross-fitter, I feel those are too much for my body, but I love my 10-lb kettlebell and hand weights. You have to find what works for your body. Too much exercise can be stressful and not good for autoimmune patients.

Those of us with thyroid concerns need to practice stress management EVERY DAY! Even the slightest internal stressors can cause a flare. Take frequent epsom salt baths, read a magazine, sit in the sun for 10 minutes every day, get a mani/pedi and treat yourself to a relaxing massage. These are therapeutic and can truly help lower stress levels.
I hope these tips can help you. Sometimes it's easy to feel lost and not know where to start, but if you start with small baby steps and create a plan for yourself, it's completely possible to heal.
I'm living proof!
One of my new programs is called The Leaky Gut Solution. Healing and sealing the gut can help stop the release of toxins into your bloodstream that cause the body to launch an attack on your organs or glands.


Sign up today for this amazing new program and let the healing begin!