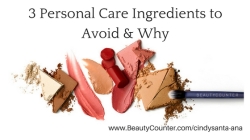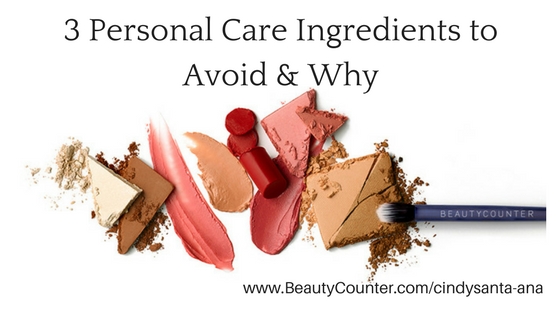 As a woman, I never really thought about what was in my skin care and makeup. Instead, I paid attention to the claims on the front of the packaging – "Fewer Wrinkles" or "Long, Beautiful Lashes" or "Perfect, Pouty Lips." You want products that work, right and make you feel good? Of course, you do! And that's why the ads with beautiful models (who are usually 17) grace the pages of women's magazines with claims making bold statements like the above.
I've been reading my food labels for several years now and staying away from chemicals and preservatives lurking in packaged foods and I made over my cleaning supplies to get rid of the nasty chemicals and fragrance, but what about my personal care products like lotions, skin care, and makeup?
Did you know that the United States has not passed a major federal law to regulate the safety of ingredients used in personal care products since 1938? That's almost 80 years of no regulation and no oversight. No safety testing!
Last year, I started reading the labels of my lotions, skin cleanser, mascara, lip stick and foundation. I was appalled at what I learned! My favorite (and best-selling) face lotion had endocrine-disrupting parabens, my body lotion did too along with fragrance, which contains phthalates. (More on that in a moment) My favorite lipstick had high amounts of lead! LEAD!!
They also contained SLS – or sulfates, that can trigger allergies and skin irritation. Yes, the same products that are said to calm skin and clean it are causing irritation and allergies! Fragrance is one of the worst. The chemical cocktail used to come up with specific fragrances are trade secrets and therefore do not have to be labeled. These cocktails can contain up to 3000+ chemicals containing phthalates, or plasticizers that hold onto fragrance on your skin or hair. Phthalates are endocrine-disrupting, meaning they mess with every system in your body and wreak havoc on your hormones.
In the past few days, I've been behind people standing in line (wreaking of fragrance), had clients in my office whose lotions and perfumes lingered for up to 6 hours after they left, and walked down grocery store aisles wreaking of perfume even though no one was there. These are those chemical plasticizers at work. If a product says, "fragrance" on the label, it can contain 1000's of chemicals responsible for that smell. Those chemicals are damaging your health!


Here is a list of my top 3 chemicals to look out for when shopping for Personal Care items:
Parabens

- (METHYL-, ISOBUTYL-, PROPLY- Butyl - OTHERS)
A class of preservatives commonly used to prevent the growth of bacteria and mold. Parabens are endocrine (or hormone) disruptors, which alter important hormone mechanisms in our bodies. Specifically, parabens mimic estrogen; they can lock on to our cell's own estrogen receptors and mess with important natural signals. They may play a role in triggering breast cancer. Found in: shampoo, face cleanser, body wash, body lotion, and lotions. Also, baby wipes!
PHTHALATES

(DBP, DEHP, DEP AND OTHERS) AKA Fragrance - A class of plasticizing chemicals used to make products more pliable or to make fragrances stick to skin. Phthalates disrupt the endocrine system and may cause birth defects. Found in: synthetic fragrance, nail polish, hairspray, lotions, body wash.
SODIUM LAURYL SULFATE

AND SODIUM LAURETH SULFATE (SLS AND SLES)
SLS and SLES are surfactants that can cause skin irritation or trigger allergies. SLES is often contaminated with 1,4-dioxane, a byproduct of a petrochemical process called ethoxylation which is used to process other chemicals in order to make them less harsh. Found in: shampoo, body wash, bubble bath, even toothpaste.
Safer Options?
This list is by no means exhaustive. There are dozens of chemicals and items like coal tar and formaldehyde in today's makeup. But there are safer options! Safer skincare? Is there such a thing? YES! For the last year or so, I have been using BeautyCounter products. Their products are rated #1 with EWG and don't contain ANY dangerous chemicals. I love their Tint Skin Foundation, their lip glosses, mascara and the new BeautyCounter + skin care line.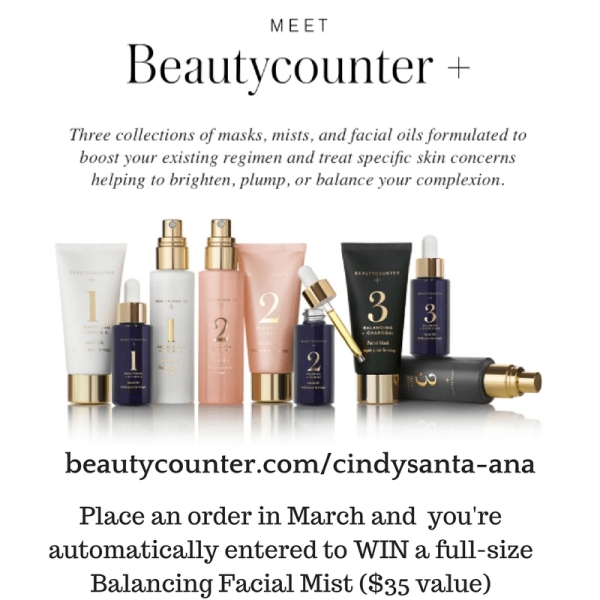 You'll love their mascara and lip glosses. I LOVE their sunscreen in the summer months. Sunscreen is one of the WORST when it comes to dangerous cancer-causing personal care items. OXYBENZONE, found in most sunscreens, is an ultraviolet light absorber linked to
irritation, sensitization and allergies, and possible hormone disruption.
Become a Band of Beauty Member ($29) and you'll receive 15% future product credit, free shipping on purchases over $100 and a free gift when you make a purchase over $50 (not including BofB membership).

PLUS, in the month of March, if you make any purchase, you'll be entered to win a full-size Balancing Facial Mist, value $35.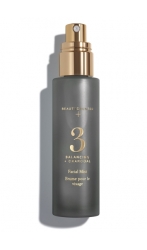 What are your favorite "clean" skin care and makeup lines?


Save