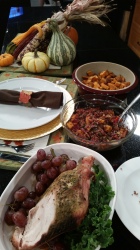 Did you know that a typical American Thanksgiving meal is an average of 4,500 calories and a whopping 229 grams of fat?!!! Whaaaaatt????
That's way too much for your body to handle in one sitting or even one day for that matter. Don't ruin your healthy eating or get off track this year. Try some of these quick, healthy, yet super delicious side dishes. Some of these are vegan and some are raw to suit all dietary needs in your family. They're all full of fiber, anti-oxidants and vitamins to nourish every cell in your body.
Start by choosing a pastured turkey from a local farm. Those close to me in Northern VA are blessed to have plenty of options here. I love Whiffletree Farm's birds and this is my fifth year buying a pastured turkey (that means they're raised outdoors on green pasture and eat bugs and grass - their natural diet). These turkeys are juicier, leaner and even cook faster than a conventional, store-bought turkey. Yes, they do cost more, but it's totally worth it - YOU are worth it.
Make sure you pick off all the meat and save those bones for making stock later on too! (For those not local, visit www.eatwild.com to find a farm near you.)
One Tip: Be ready for faster cook times. Pasture-raised turkeys will cook faster than factory-farmed birds. Figure on 12-15 minutes per pound, uncovered, at 325 degrees as you plan your dinner. That said, oven temperatures and individual birds will always vary. Use an internal meat thermometer to know for sure when the bird is cooked. They're done when the breast reaches 165° F.
I usually stuff the body with an onion cut in half, a few pieces of celery and sometimes a lemon. Rub olive oil and salt & pepper on the outside.
Healthy Side Dishes
These are quick and healthy side dishes your whole family will love! Start with fresh, whole ingredients and locally grown is always best.
Quinoa Squash Un-Stuffing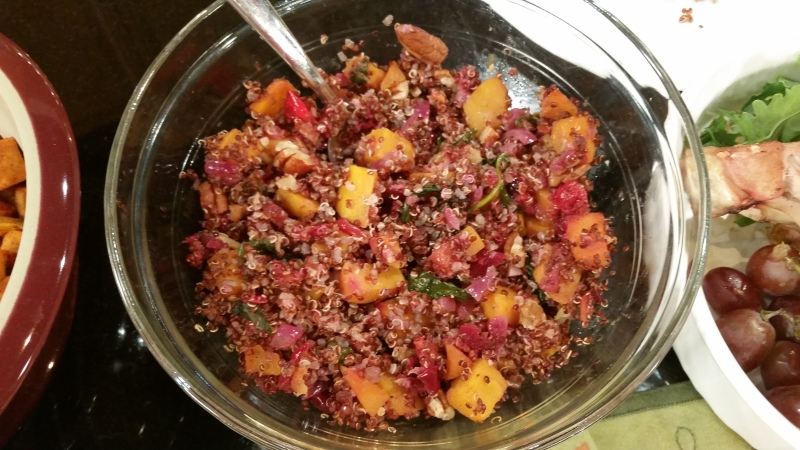 Ingredients:





1 cup quinoa, rinsed well




1 tsp kosher salt




1/2 tbsp light olive oil or ghee




1/3 cup chopped shallots




2 cloves garlic, chopped




1 1/4 cups (6 oz) diced butternut squash, 1/2-inch dice




1/2 cup fresh cranberries




2 tbsp pure maple syrup (or honey)




1 cup baby spinach or kale




3 sage leaves, chopped (or 1/4 tsp dried)




2 tbsp chopped pecans or walnuts




1/4 tsp crushed black pepper




Directions:





1. Place 2 cups of water and 1 cup of quinoa in a medium saucepan

on

high heat. Bring to a boil. Once boiling, turn down to low and simmer with a lid on for 15 minutes. Fluff with a fork when done. Set aside.





2. Heat a large skillet over medium-high heat and add olive oil or ghee. Add shallots and garlic and sauté over medium-low heat for 4-5 minutes, or until golden. Add butternut squash, cranberries, maple syrup and 1 tablespoon water and cover; cook on low for 10 minutes.





3. Remove lid and add kale or spinach, salt, sage, and pepper,

cover

and cook for

another 3-4 minutes

. Mix in pecans or walnuts.





4. Add this mixture to the cooked quinoa and stir to combine.



I did a demo of this recipe on WUSA-TV, Great Day Washington. Watch it here.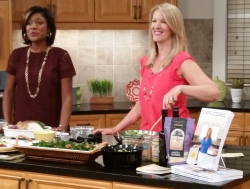 Lemony Brussels Sprout Salad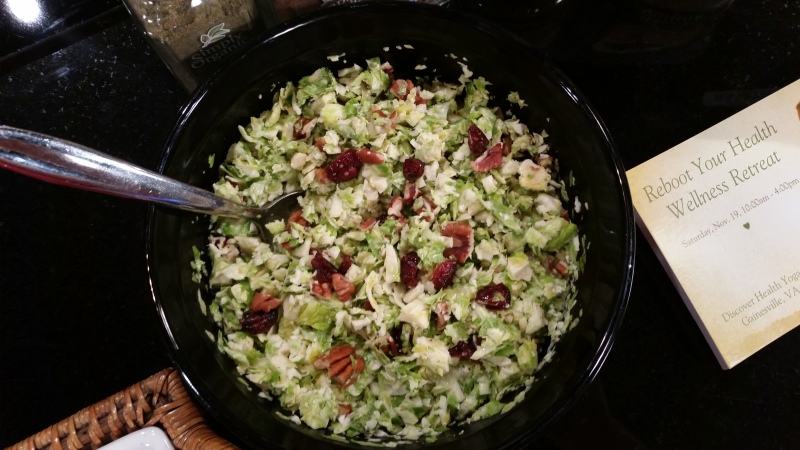 1 lb Brussels sprouts
2 Tbsp mayo
1 Lemon, zested
2-3 Tbsp of fresh lemon juice
Salt & Pepper
1/4 cup olive oil
1 clove garlic, minced
Chopped pecans, dried cranberries (optional)
Trim ends of 1 lb. of raw Brussels sprouts. Cut in half lengthwise. Place in a food processor and shred. Combine 2 T mayo, grated zest of 1 lemon, 1 clove garlic, minced, 1/2 tsp salt and pepper, ¼ cup olive oil and 3 Tbsp lemon juice. Whisk together dressing and pour over raw sprouts. Can be made up to 4-5 hours in advance. Keep in fridge. You can also add chopped pecans or walnuts or dried cranberries.
This is really good - probably my favorite creation this year! So fresh and lemony!
Massaged Kale Salad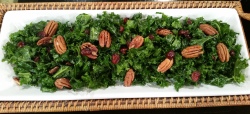 Serves 6 as a side
1 head organic kale, de-stemmed (any type will do)
2 Tbsp lemon juice
2 Tbsp olive oil
1/4 tsp sea salt
1 handful sunflower sprouts
1/2 cup coarsely chopped walnuts (omit for Nut-Free option)
2 Tbsp olives
Options: Feta Cheese, Dried Cranberries
Instructions:
1. Slice kale leaves into thin strips, transfer to a large mixing bowl, drizzle with the
lemon juice and olive oil, and sprinkle on the salt. Gently massage them for 3 to 5
minutes, until they start softening and the color gets dark and beautiful. Set aside.
2. Add in the sprouts, walnuts, and olives, and toss with more olive oil and lemon juice.
Roasted Sweet Potatoes and Red Onions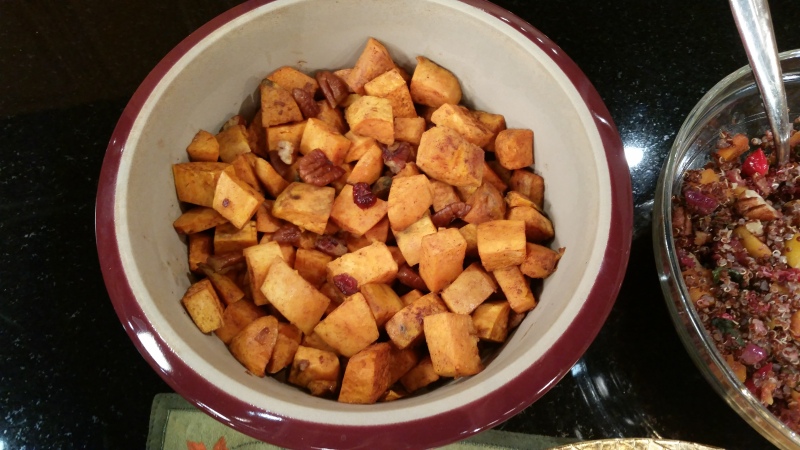 (Serves 4-6 servings)
Ingredients:
2 large orange-fleshed sweet potatoes, cut in 1 inch cubes
2 small red onions, cut into pieces just larger than 1 inch
2 T olive oil (or slightly more, enough to coat all the veggies with oil)
½ tsp sea salt and black pepper
Zest of 1 orange
Juice of 1 orange
Dash of cinnamon, ground ginger
Instructions:
Preheat oven to 450° F.
Peel sweet potatoes and cut into cubes about 1 inch square. Peel red onions and cut into pieces slightly over 1 inch square. Put sweet potatoes and onions into a bowl and toss with 2 tablespoons olive oil (or slightly more if you need it to get all the veggies coated with olive oil.) Add orange zest and juice to coat the sweet potatoes. Sprinkle spices over the veggie mixture and toss until all the vegetables are coated with the seasonings.
Spread the vegetables out on the baking sheet (use two baking sheets if they're even slightly crowded.) Roast about 20 minutes, then flip them over with a turner.
Roast 10-20 minutes more, or until the sweet potatoes and onions are both nicely browned and sweet potatoes are soft. (They don't get very crisp, but there should be some browning on the edges.) Total roasting time will be 40-50 minutes, depending on the size of the sweet potatoes, your pan, and the oven.
Happy, Healthy Eating!
Cindy
Save
Save
Save
Save