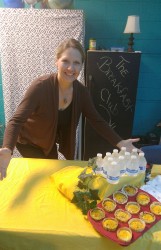 Can you Change a Child's Behavior with Food?
One of my good friends is a Special Education Teacher at Douglas Elementary in Trenton, SC. This is a rural elementary school of 258 students and 25% of those are special needs students. Susie O'Neal supports students with multiple disabilities ranging from Other Health Impaired, Vision, Specific Learning Disabilities, Autism, Asperger's Syndrome, and Behavior Disorders in grades K-5. She created a new program, The Breakfast Club, aimed at empowering these children and hopefully improving their behavior at school.
Here's her story:
Why did you create the Breakfast Club?
I started the Breakfast Club because I was concerned about some of my students with behavior goals. They just didn't seem to have a structured environment where they could learn to solve social problems and increase social skills. I also started the Club because the free breakfast provided in the school cafeteria was so high in sugar and artificial colors, that I knew that something had to be changed. Research shows that breakfast has been suggested to positively affect learning in children in terms of behavior, cognitive, and school performance, so I thought I would give it a go.
What are you making or bringing to cook/eat?
The group was given an interest inventory of organic/gluten free/ whole food selections and they came up with a weekly menu that was within my budget. They are eating organic buckwheat waffles with agave syrup, corn tortilla egg and turkey sausage burritos, and organic apples and bananas with peanut butter, green smoothies, and chia seed pudding.
The children are involved and take part in setting the table, playing conversation games and problem-solving.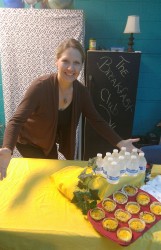 What response have you gotten from the kids? Do they enjoy the food and the activities?
I started with four special needs students all with different disabilities from Other Health Impaired, Behavior Disorder, ADHD/Learning Disabled and Autism. My group is now eight deep and two come because they feel better and like to eat healthy instead of the processed food provided in the cafeteria. All the students are on my IEP caseload. Breakfast Club is a big hit!
Who is paying for the food?
The Breakfast Club is presently funded out of my own pocket with help from my Special Education Director. I recently applied to receive a Donors Choose grant which you can read about it here.
What kind of results have you seen in their behavior since starting this program?
After one week of the Breakfast Club, I have noticed a decrease in classroom behavior problems. The students are talking more about eating healthy and even point out unhealthy snacks they see others eating. I have one of my students turning in his candy rewards from other teachers for tangibles instead. I will be doing a more intensive behavior analysis at the end of the first 9 weeks. So far I like the results I have seen.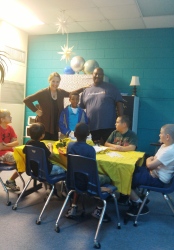 What prompted this idea?

I got this idea from my Health Coach and friend, Cindy Santa Ana. In her book, Unprocessed Living: 3 Easy Steps to Transition into Healthy Eating, I learned about the effects of sugar on the body. I then applied what I learned as a behavior analyst in training to my special needs students in the classroom. I believe some of their behavior to be a result of poor eating habits. I want to help my students get their family members on board. I want to teach them how to ditch the sugar habit and how to eat healthy in social settings, at school, and at home. My desire is to help these children eat healthy foods and maybe improve their behavior in the classroom.
My Thoughts:
I am so inspired by Mrs. O'Neal's creative program. I know this will leave an impact on these children for years to come. I am so proud of her for taking my passion for healthy eating and sharing it with these amazing children.
Please consider donating to Mrs. Susan O'Neal, Douglas Elementary, Trenton, SC. The Breakfast Club.Share this article with other teachers and program administrators in your area. Maybe we can spread the ripple effect!

Susie O'Neal has a Masters of Arts in Teaching Special Education from the College of Charleston. She services students with multiple disabilities ranging from Other Health Impaired, Vision, Specific Learning Disabilities, Autism, Asperger's syndrome, and Behavior Disorders in grades K-5. She has been teaching for 17 years. She is presently seeking to become a Board Certified Behavior Analyst using the Applied Behavior Analysis program at Clemson University.
Save