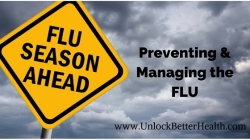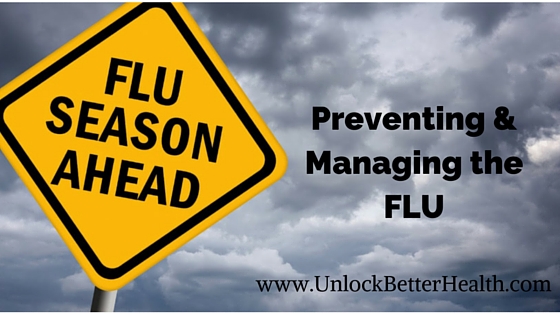 The period of time between Halloween and New Year's Day is riddled with illness in America. There's no coincidence that the increase in the amount of sugar we consume coupled with freezing temps, drying indoor heat, holiday stress, and lack of sunshine cause an increase in colds, flu and bronchitis.
Consuming extra amounts of sugar via Halloween candy, pies, cookies, treats and sugar-laden cocktails cause inflammation and lower our immunity. This makes us susceptible to illness. So one major preventative measure is to monitor and control how much sugar you are consuming.
Prevention is key. Building your immune system is a strong way to prevent illness from taking over. Eating a nutrient-dense diet of leafy greens, lean protein, healthy fats like avocado, nuts and seeds, and lots of water can help. But, don't forget to also include fermented foods like kefir, fresh sauerkraut, raw pickles (I like Bubbies brand), kvass, kombucha and yogurt. But – limit your intake of dairy as it can cause extra mucous production. If you don't like fermented foods, which are full of natural probiotics, you can take a supplement. Choose one with at least 5 strains of bacteria and over 25 million CFU's.There are even some great ones for kids these days.
Taking a good quality Vitamin D3 is great for building strong immune systems due to its ability to produce antiviral peptides.

Act fast when the sniffles appear! When symptoms arrive, you're actually in Day 2 of your illness. That's why it's important to act fast with natural anti-virals that can stop or lesson your illness. Oregano Oil, Olive Leaf Extract and garlic are powerful anti-virals. I take 1-2 drops of Oregano Oil by mouth with lots of water and it usually does the trick. I haven't been sick in years. You can also rub it on the soles of your feet when symptoms appear (which is safer for children). My girls like my homemade Elderberry syrup when they get that little throat tickle. OnGuard is another essential oil blend I diffuse for prevention. You can also put 1 drop on your toothbrush and brush your teeth with it.

If you can tolerate raw garlic, crush 2 cloves in about 4 oz. of water, add a teaspoon of raw honey and drink it all down. This is equivalent to 1 dose of antibiotics.

Try this natural flu shot or "fire cider" when symptoms appear. The ingredients act as a powerful immune-builder and kills "bad" bacteria, while leaving the good guys intact.
Natural Flu Shot:
2 cloves finely minced garlic
1/8 tsp cayenne pepper
1 tsp raw, local honey
1 oz Bragg's Raw Apple Cider Vinegar
Dash of turmeric
Fresh grated ginger
Mix in a glass and drink it straight down!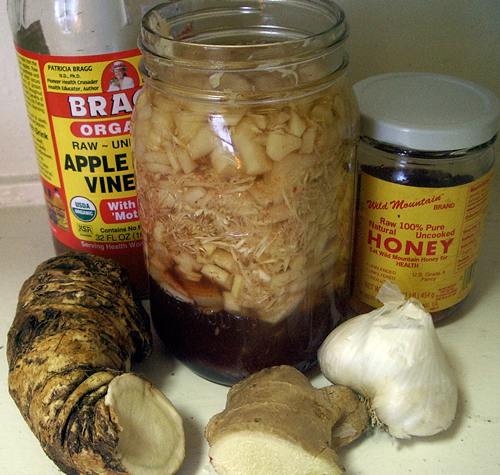 Easing Symptoms. Drinking warm bone broth can ease congestion and provide minerals and hydration you need for healing. I like to take warm baths and diffuse Eucalyptus oil. Coconut oil can soothe sore nostrils from frequent blowing. I like to diffuse thyme, oregano and Eucalyptus when someone does get sick.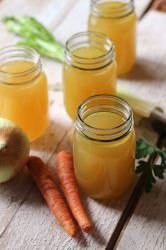 Most importantly though is to keep your hands clean and away from your mouth, nose and eyes. Use those sanitizing wipes at the grocery store and wipe the cart handle clean. Have your kids wash their hands when they get home from school. (It's the first thing I ask my girls to do when they walk in the door!)


Remember to drink lots of water every day and get those veggies in!
What are your natural flu remedies? Do you have a favorite?

Personal Note: We never get flu shots in our home and I've personally never had the flu in my 48 years of life! I find that they lower your immune system and make you more susceptible to other respiratory illnesses. This is just what works for my family. Plus, I want to build natural immunity to colds. I build up my immune system with healthy foods, herbs and a low-sugar diet.

(P.S. Want to get 25% off Essential Oils and a diffuser? Send me a message and I'll show you how!)

Save
Save