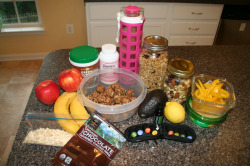 Traveling this summer? Got a long road trip planned? I've got you covered with healthy on-the-go clean food options. Your clean eating routine doesn't have to go by the wayside just because you'll be away from home and your kitchen. With a little pre-planning, you can create a lot of options for eating healthy away from home. So, make a list, shop ahead and pack up some healthy treats for your vacations and keep driving on by that truck stop full of trans-fats and genetically modified foods!

Invariably, someone may get sick, have tummy troubles or get a boo-boo, so I always pack my essential oils.

I have a little travel case full of tiny drams of my favorites. I use Lemon oil in my water every morning to balance my pH and detox. I use DigestZen for upset tummies; Peppermint for headaches, fevers, improved digestion, and over-heating; Deep Blue for sore feet and achy muscles; I use Lavender for cuts, scrapes, itching, rashes and for calming (also great for sleep); and, perhaps most important is Terrashield, a natural repellant blend that keeps mosquitos and ticks away without chemicals! Visit my essential oil website to learn more!


Eating Healthy on the Road
Got a road trip this summer? Here are a few tips on how to eat healthy on the road:
Plug in your route on Eat Well Guide and it will give you a list of healthy food options along your route. Plug in your destination and it will give you tons of local, organic food options where you'll be staying as well.

Pack a cooler. To keep kids from getting bored, have go-to snacks on hand and lunches already packed. This means less stops and getting to your destination quicker!

Here's what I pack: bananas, apples, grapes, pre-made trail mix, homemade granola (for topping yogurt or just snacking on), nitrate-free jerky, Epic bars, hummus with cut up cucumber, carrots and bell peppers, sandwiches for the kids, power salad for me, protein power balls, homemade granola bars, Newman's Own High Protein Pretzels, organic sugar snap peas and Plantain Chips.
Refillable, reusable water bottles. No plastic bottles that just fill up landfills and expose you to more BPA, buy a glass or stainless steel bottle and refill it! We take ours with us everywhere - even when flying (see below).

Eating Healthy on a Plane
Knowing a few secrets can get you by those pesky TSA rules!
Pack your breakfast in a baggie! I pack quick-cooking rolled oats, cinnamon, chia seeds, nuts and my homemade granola in a baggie. Once through security, I look for a coffee shop and get a cup of hot water and a spoon (almost always free). You can also add dried fruit like raisins, cranberries or apples to sweeten it up if you need to. I also love my Chia Pudding recipe for early morning flights, but I must caution you. The pudding has to be thick and full of fruit and nuts or they won't let you carry it on. I once had to down a whole jar of chia pudding at the security checkpoint because it had too much liquid. So make a small amount and "chunk" it up!


Banana or apple with a packet of Justin's Almond Butter.

Epic Bars, nitrate-free jerky and beef sticks can provide clean protein for the meat eaters. I like Nicks Sticks and Epic Bites too.

For every plane trip I took last year, I made a Power Salad in a small Tupperware container. It has greens, a protein like quinoa, chickpeas or tuna fish, sunflower seeds, diced avocado, chia seeds, chopped veggies like cucumber, bell peppers, carrots and a tiny container of homemade dressing. I stop by a café and grab a plastic fork before getting on the plane.

I also love taking dried fruit, dark chocolate, trail mix, granola, blueberries, raw pumpkin and sunflower seeds, and homemade granola bars for the kiddies.
Water! Buy a large bottle of water after security or fill up your reusable water at a café soda fountain (free option!). A lot of airports now have water bottle filling stations!

Herbal tea – I love packing a baggie of my favorite herbal teas. I use Peppermint for a pick-me-up or tummy troubles, Ginger is great for nausea as well, I love Vanilla Rooibos, Honey Lavender and Lemon tea as well. They always have hot water on the plane or you can hit up a coffee kiosk and get a cup of hot water for free.

Eating Healthy in a Hotel
I like to book hotel rooms that have a mini-fridge. I like packing a few staples in my suitcase and then tossing a few local finds in the fridge.
Stop by a local market and buy some string cheese, plain yogurt, nut butter, raw veggies, and GF crackers. I also buy Fiji water in large bottles, because the hotel water bottle charges are exorbitant.

Bring baggies of quick-cooking oatmeal and make some hot water by running water through the hotel room coffee maker. I take pre-made packets of chia pudding (with collagen and shredded coconut) and use the hotel room cups to make chia pudding. I buy cashew or almond milk when I get in town or I've been known to pack a container of cashew milk in my suitcase! (They come in those tetra-paks) Just seal it well in a gallon zippy.

Pack your protein powder or green powder and add water to a Blender Bottle for a quick breakfast shake. I make pre-made baggies of my Vital Proteins Collagen Peptides, powdered greens, maca powder, raw cacao and chia seeds.

Store fresh fruit like apples, oranges, grapes, berries and bananas in the fridge.

Make sure you save some snacks for the car or plane ride home.
Eating Healthy in a condo (with a kitchen)
We're taking a week-long beach vacation to South Carolina this year and I'm excited about being able to cook our own food in a fully-stocked kitchen. I called ahead to see what they have and I only need to pack a few extra essentials. We're packing a blender, some spices, my favorite skillet and a few of my favorite knives.
I've planned out our route on Eat Well and found some local restaurants, farmer's markets and even an organic grocery to shop from.
Most every breakfast and lunch will be eaten at the condo. I love my chia pudding, omelets, sweet potato hash and fresh sausage from our farmer.
We'll make chicken salad, potato salad, broccoli slaw with grilled chicken and lots of fresh salads.
I'm packing a cooler of some of our frozen pastured pork and grass-fed beef and have planned out our dinners for the week, which also includes some evenings out at a few local restaurants that cater to those looking for healthier, local, sustainable foods. But I might throw in a night at some of my favorite Southern soul-food spots. I gotta get my fix! It's all about balance after all.


Save