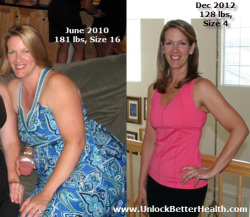 Do you know my story? I wanted to share it with you.
I was raised in middle America in the 1970's, eating the same thing as the rest of our suburban neighbors. I grew up eating canned soups, toaster pastries, oatmeal cream pies, pinwheels, school lunches, frozen dinners, fast food burgers and tacos, brightly colored popsicles and eating as much candy as I could shovel in my mouth. Of course my mom cooked dinner most every night of the week, but she had grown accustomed to convenience items like canned vegetables, boxed stuffing mixes and typical packaged foods that everyone was buying.
Then, when I moved away from home, my diet consisted of low-fat and fat-free everything, canned foods, anything I could pop in a microwave and high-sugar juices. The result? By age 25, I was diagnosed with Hashimoto's Thyroiditis (an autoimmune thyroid disease). I didn't give my diagnosis a second thought. I took my prescribed medication and assumed that feeling tired, cold and headachy was my new way of life. I also suffered from frequent migraines, frequent bronchitis and low energy. I wasn't overweight, not yet anyway.
I was always interested in fitness and even majored in Physical Education and Health in college. I danced, exercised regularly and worked as a Personal Trainer. But, I was following the USDA guidelines for nutrition. Remember the food pyramid? I was told fat was bad and to eat 6-11 servings of bread, cereal and pasta a day…which I did. Do you think I eventually became overweight? You betcha!
Years later, after having two children, I became very tired all the time, had horrible allergies, frequent colds, sinus infections and bronchitis, frequent migraines, unexplained leg pain, hip pain, high cholesterol and was about 45 pounds overweight. I hit 40 and was falling apart! I wanted to exercise. I wanted to feel better, but I wasn't sure where to start and had no energy to do anything. I thought I was eating healthy by avoiding all fat and soda. I was eating fat-free cookies, fat-free mayo, "healthy" frozen meals and looking for "natural" products. I mean, I even avoided nuts and avocados because of their high-fat content! When it came to food shopping, I never really thought about reading food labels and I would grab the cheapest item on the shelf. I did occasionally look at the fat grams and sometimes the calorie count, but it never crossed my mind that the chemicals in my food were making me sick!
Then, in 2009, I met an Integrative Nutrition Health Coach. She taught me some amazing things about our food supply today and how I could change my life by not eating processed foods and conventionally-farmed meats and dairy. We slowly started educating ourselves and began reading ingredient labels.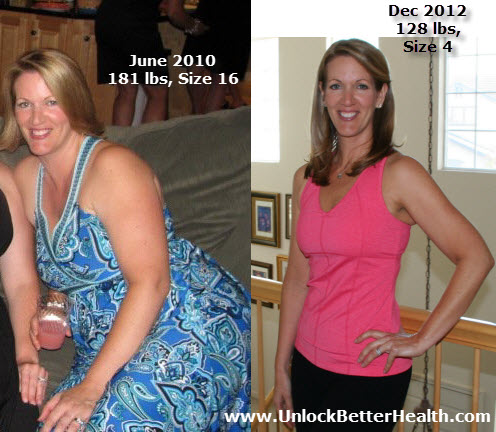 Since September 2010, I have been eating clean, whole foods, farm-fresh eggs, grass-fed meats, eliminated dairy, soy and gluten and I grow a lot of my own food. The result? I lost 50 pounds, have no more migraines, no more allergies, my thyroid condition is under control, I'm off all medications, I haven't had a sinus infection or bronchitis since I stopped dairy, no more leg or hip pain, cholesterol is normal and I have tons of energy all day long for my active kids!
I even managed to get my husband and kids on board and they don't drink store-bought, pasteurized juice anymore, we've nixed the frozen chicken nuggets and fish sticks and they enjoy the same dinner as the adults. It is possible to get your kids to love broccoli, zucchini and kale – it just takes some time and creativity!
In 2012, I enrolled in the world's largest nutrition school, the Institute for Integrative Nutrition, where I was trained in more than one hundred dietary theories and studied a variety of practical lifestyle coaching methods. I was eager to share my new-found knowledge with the world and let people know that you don't have to feel this ill. You don't have to grow old and become sick and take lots of medication. I'm excited to share with others the amazing, life-changing experience I went through.
Today, I see so many clients with diet-related diseases and it makes me mad that our food supply has become so tainted with chemicals, hormones, pesticides, and genetically-modified organisms. It's not your fault. I also have many family members who have developed chronic diseases and then go on to make changes to their diet and lifestyle, but what if you could avoid the cost and heartache associated with diet-related diseases? My wish is for you to be inspired to take responsibility for your health now, no matter your age or state of health. No change is too small!

Contact me now or sign up for my 6-Week JumpStart! I want to help you reach your goals too!