Thanksgiving traditionally means gathering friends and family and feasting on delicious homemade food from recipes passed down from generation to generation. We've strayed a little bit from that and gotten accustomed to taking shortcuts and buying packaged foods to help us with the arduous task of preparing food for an entire day for it only to be consumed in five minutes. That can seem ridiculous, right? But, I want to encourage you to think about this meal as a rich source of nutrients that will feed every cell in your body. After all, we usually eat leftovers for several days and you wouldn't want to continue to eat non-nutritious food for days on end. The typical American Thanksgiving dinner has about 4,500 calories and 229 grams of fat! Yikes!
I've revamped our traditional Thanksgiving meal to include nutrient-dense side dishes and desserts that are delicious, but also feed your body on a cellular level.
I'm sharing some of my timed-honored recipes that our family enjoys. I encourage you to source locally, use fresh when possible and prepare your fall meals with love.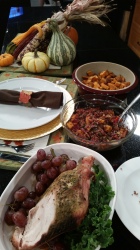 Let's start with the Turkey…
Before you purchase that frozen conventional turkey this year, I want you to consider a couple of important points on why I recommend avoiding them! I suggest opting for an organic free range turkey, from a local farm. It'll be healthier for you and your family and also support your local turkey farm! After all, you'll be eating this bird for several days, let's make it a good one! Plus, I hope you'll make stock from the bones and a pastured turkey makes THE best bone broth or stock.

Conventional turkeys get minimal (if any sunshine) and can have unwanted pesticides and antibiotics. They could be fed corn and soy meal as well. Turkeys eat bugs and grass, like chickens and consuming a pastured-bird is healthier for you, the environment and the bird.
Organic – Free Range (pesticide free feed, no hormones, no antibiotics). Healthy turkeys have higher percentages of omega-3 fats, which reduces the inflammation that can lead to heart disease, arthritis, diabetes, and Alzheimers.
Find a Pasture-raised, non-GMO fed turkey locallyin Northern VA at Whiffletree Farm or www.EatWild.com.
MAJOR TIP: If you do choose a pastured turkey, you should know that they cook in less time (because they have less fat) and require brining to give it a deep, rich flavor. Don't view this as too difficult, it results in an amazing flavor and your guests will love it! And save those bones for making a delicious stock for soups!
Pastured Turkey Brine & Roasting Instructions
Ingredients
1 Pastured Turkey (10-15 lbs), thawed
2 Tbsp dried thyme, or 4 Tbsp fresh thyme
1 Tbsp peppercorns
4 bay leaves
2 Tbsp dried sage, or 4 Tbsp fresh sage
1 gallon water
1 lb kosher salt
1 cup Raw Honey
1 Tbsp crushed juniper berries, (if available)
1 gallon ice water
You'll Need: Cheesecloth cut into 6-inch square, kitchen string, 1 oven-safe cooking bag (big enough to fit turkey)
Directions:
Thaw turkey. Remove neck and giblets from body and neck cavities. Rinse well and pat dry.




Make a sachet: Place thyme, peppercorns, bay leaves, and sage in middle of cheesecloth square; tie with string.




Place sachet,

1 gallon

water, salt, honey, and juniper berries in

a large

stockpot. Stir; bring to slight boil on HIGH. Turn off heat immediately. Let rest 30 min.




Add

1 gallon

ice water to cool mixture. (Brine should be no more than 50 degrees before submerging turkey. Check with

a quick-read

thermometer.)




Place oven bag in

a large

stockpot, pour mixture in

the oven

bag. Add turkey, submerging in brine. Marinate in refrigerator for 24 hours.
Option 2: If your refrigerator won't hold the turkey, place all ingredients in food-safe plastic bag. Store in picnic cooler, covered in ice, up to 24 hours.
Cooking Your Bird:
Preheat oven to 450 degrees. Remove turkey from brine, discard brine. Rinse turkey with cool water.


Place turkey, breast side up, on

rack

in

shallow

roasting pan, drizzle with olive oil or butter. Tuck wings under back of turkey. Cover turkey loosely with a "tent" of aluminum foil, or use roasting pan lid.




Roast for 15 min. Reduce oven to 325 degrees for 3-4 hours, depending on the size of your bird. Check internal temperature by inserting

a thermometer

into thickest part of inner thigh area where

leg

connects to

body

of bird - but not touching the bone. Juices should run clear.




Baste turkey with drippings; roast until internal temperature reaches 165 degrees. Let rest 20 min before carving.
<GET YOUR COMPLETE GUIDE TO A HEALTHY THANKSGIVING HERE>
You'll find more delicious Thanksgiving recipes at my website, www.UnlockBetterHealth.com.