Gluten-Free Chocolate Chip Banana Bread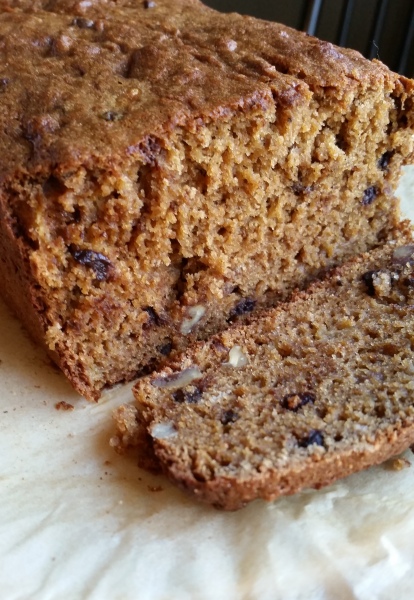 My new gluten-free Chocolate Chip Banana Walnut Bread is so moist and delicious – no one will ever know it's gluten- and dairy-free. Enjoy it warm from the oven and you'll make friends fast.
Better yet, package a loaf up and share as a neighborly gift.
Don't be intimated by the unusual flours. These are my go-to flours for making delicious gluten-free baked goods. Sorghum flour lends a sweeter taste and is perfect for banana and zucchini breads.
I made mine with a little bit of Homemade Nutella - a sinful treat!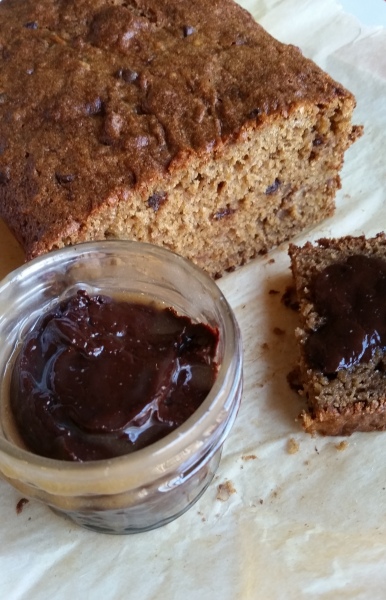 Ingredients:

1 cup mashed ripe bananas (about three medium-sized bananas)
2 large pastured eggs, beaten
1/4 cup organic coconut oil, melted
1 cup coconut palm sugar (for even lower sugar, use ¾ cup, it won't be as sweet, but still good)
1 cup sorghum flour
1/2 cup tapioca starch
1 tablespoon brown rice flour
2 teaspoons baking powder
3/4 teaspoon xanthan gum
1/2 teaspoon baking soda
1/2 teaspoon Celtic or Himalayan sea salt
2 teaspoons vanilla extract
1 teaspoon ground cinnamon
1/2 cup mini chocolate chip, like Enjoy Life brand (optional, but tasty)
1/2 cup walnut pieces (omit if nut-free)

Instructions:

Preheat the oven to 350° F. Line a 9-inch loaf pan with a piece of unbleached parchment paper.

In a large bowl, mash the bananas with a fork. Then, beat the mashed bananas with the eggs, oil and coconut sugar till combined. Add the sorghum flour, tapioca starch, brown rice flour, baking powder, xanthan gum, baking soda, salt, vanilla and cinnamon and beat until a smooth batter forms. Stir in the walnut pieces and chocolate chips by hand. (Use can simply use a fork or hand mixer to combine the ingredients)

Scoop the batter into the loaf pan and spread evenly. Bake on the center rack for 55 minutes, until the center is done (a wooden toothpick should come out clean). Ovens vary, so check the loaf at 50-60 minutes.

Cool on a wire rack.

This banana bread stays moist overnight if tightly wrapped- but I doubt it will last longer than a day or two if your family has anything to say about it!

Makes one 9-inch loaf

Credit: Cindy Santa Ana, Unlock Better Health
Save